BIODENT BASICS TOOTHPASTE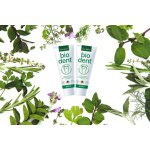 Terra Natura Biodent Basics Toothpaste without Fluoride
Biodent Basics Toothpaste without Fluoride with Stevia is free of fluorides, menthol, artificial sweeteners and synthetic preservatives.
The mildly foaming toothpaste gently removes deposits and plaque with natural cleaning agents made from microfine mineral clay. Due to its alkaline property, the pH value is 7.9-8, the green mineral clay also has a neutralising effect on acids.
To maintain the health of the oral flora and prevent caries and periodontitis, an active ingredient combination of Stevia and olive leaf extract as well as anti-inflammatory camomile help to care for and protect sensitive gums.
Natural cosmetic toothpaste
Green mineral clay is the main ingredient of the fluoride-free Biodent Terra Natura toothpastes and neutralises acids with its alkaline properties. Plaque and even stubborn deposits on the teeth are gently removed by micro-fine earth particles. The consistency of Biodent Basics toothpaste is somewhat firmer than that of Biodent vital toothpaste.
Fluoride-free toothpaste - certified natural cosmetics - vegan dental care with organic plant ingredients
Gently removes plaque

Protects against caries

Protects against tartar build-up

Protects against gum problems

Provides fresh breath

Without paraffin

Without mineral oil

100% silicone free

Without microplastics

Without synthetic preservatives

Without fluorides

Without artificial sweeteners

Organic quality

Vegan
Cleans teeth and protects them from plaque
Biodent Terra Natura toothpaste is 100% certified natural cosmetics with high-quality organic plant ingredients and is developed and produced in Germany.
Terra Natura Biodent Basics toothpaste is homoeopathically compatible
As no menthol is used but spearmint oil (Latin name: Mentha spicata), Terra Natura's Biodent Basic toothpaste can be used during homeopathic treatment.
Page 1 of 1
Items 1 - 5 of 5
---