10.000 Stevia Sweetener Tablets | Sweet Tablets Refill Pack + Dispenser
10.000 Stevia Sweetener Tablets Refill + Free Dispenser
For low-calorie, sugar-free enjoyment of drinks
For the production we use only high quality steviol glycosides/rebaudioside-A with a purity of at least 95%, the sweet components from the stevia plant. steviapura® Stevia Sweetener Tablets, the ideal sugar substitute supports you in a healthy diet, dieting and losing weight. steviapura® Tabs are a good alternative to sugar and sweetener. Low in calories, easy to dose and healthier than sugar are good reasons to buy stevia sweetener tablets.
Easy dosage of Stevia Sweetener Tablets
Stevia sweetener tablets are ideal for sweetening hot and cold drinks such as coffee or tea. The small Stevia tablets are very easy to dose. One Stevia tablet is equivalent to about 1 teaspoon of sugar.
Stevia Sweetener Tablets Refill Packs
With the Stevia Sweet Tablets refill packs, the Stevia sweetener tablet dispenser can be refilled at any time. In the Stevia Online Shop, you can buy Stevia refills at a reasonable price. Refill packs are available in different sizes with 1200 | 2500 | 5000 | 10.000 Stevia Sweet Tablets in our Stevia Shop.
Stevia Sweet Tablets in a practical dispenser
Whether at home or on the go - the practical Stevia Sweetener Tablets dispenser fits in any handbag or jacket pocket. With it, you can sweeten your drinks effortlessly even when you are on the go. The dispenser is very easy to refill, so you save the environment and valuable resources.
A calorie-free sugar alternative that comes from the natural raw material of the plant stevia. Handy and practical, this dispenser fits in any pocket! Simply enjoy sugar-free consciously with Stevia sweetener tablets anytime, anywhere.
Sweeteners with steviol glycosides from the stevia plant have the advantage that they are low in calories and tooth-friendly compared to sugar. Even diabetics can sweeten their drinks with it because stevia is insulin-neutral and does not affect blood sugar levels.
Enjoy the sweetness of steviapura® Stevia Sweetener Tablets.
---
PRODUCT FEATURES:
STEVIA SWEETENER TABLETS | STEVIA SWEET TABLETS
Product name: Steviol glycosides-based table top sweetener.
Ingredients: Erythritol | Sweetener Steviol glycosides, Rebaudioside A [18 g/100 g] with a purity of at least 95%| Sodium bicarbonate| Monosodium carbonate | L-Leucine
Quality: Premium quality from the finest raw materials
Manufactured: In Germany according to IFS, GMP standard
Storage: Cool and dry
Packaging: Vacuum bag + refillable sweetener dispenser and therefore environmentally friendly
Taste: Very sweet
Suggested use: For sweetening coffee, tea as well as hot and cold drinks.
Nutrition Table
Average nutritional information

Per 100g

Per piece

GDA

 

steviapura® Stevia Sweetener Tablets

(1667 pieces)

(60mg)

per piece

GDA*

Energy

229 kJ (54 kcal)

0,14 kJ (0,0 kcal)

0,00%

2000 kcal

Protein

0,0 g

0,0 g

0,00%

50 g

Carbohydrates

0,0 g

0,0 g

0,00%

270 g

of which sugar

0,0 g

0,0 g

0,00%

 

of which polyhydric alcohols

42 g

0,02 g

0,00%

 

Fat

0,0 g

0,0 g

0,00%

70 g

of which saturated acids

0,0 g

0,0 g

0,00%

0,0 g

Dietary fibre

0,0 g

0,0 g

0,00%

0,0 g

Salt

0,0 g

0,0 g

0,00%

0,0 g

* Guideline based on a diet of 2000kcal daily intake of an average adult.
steviapura® sweetener tablets are produced without:
Flavourings, dextrose, fructose, glucose, lactose, sorbitol, sugar and without artificial sweeteners: aspartame, acesulfame, maltodextrin, saccharin, cyclamate or sucralose.
Stevia Sweetener Tablets - Sweet Tablets Dispenser - Stevia Tabletop Sweetener
Ideal for hot and cold drinks.
Especially in fruit and herbal teas, but also in black tea, our unique stevia recipe develops a balanced sweet aroma and taste.
The calorie-free enjoyment of Stevia sweetness also harmonises with coffee and other hot and cold drinks.
Thanks to the practical and handy mini dispensers from steviapura®, the stevia sweetener tablets can be easily dosed and are an ideal companion for on the go.
One Stevia sweetener tablet is equivalent to the sweetness of one teaspoon of sugar.
You save 20 kcal for every teaspoon of sugar you replace with one steviapura® Stevia tablet. In one year, this corresponds to about 4.2 kg of fat tissue for four cups of coffee or tea a day.
NOTE:
In the interest of consumers, we do not use chemical tablet coatings. This causes abrasion of the tablets in the dispenser which can lead to blockage. Simply rinse the dispenser without sweetener tablets under warm running water and press the green button several times. Then allow to dry thoroughly, refill with sweetener tablets and the dispenser will work properly again.
Reuse and reduce waste: To protect the environment and reduce waste production, you can reuse the dispenser with our refill packs. Refill packs are available in different sizes with 1200 | 2500 | 5000 | 10.000 Stevia Sweetener Tablets in our Stevia Shop.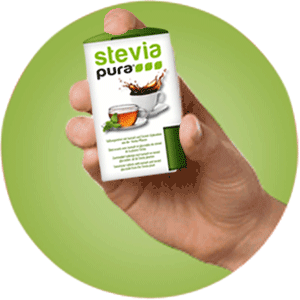 ---